With over 130 years' experience in the pattern book industry, we have established ourselves as sampling solution specialists. Pike Textiles is a family-run business, we have seen great change over the years but still pride ourselves on our close relationship with our staff and clients. We understand the importance of sampling books in your business. Whilst our unrivalled experience is the foundation of our lasting reputation for quality and reliability, working in partnership with our clients has also been key to our success.
With this considerable experience and an ongoing commitment to UK manufacture, we are a partner that be can be trusted to deliver the highest quality product, regardless of its specification or deadline. We not only take pride in the quality of our handcrafted products, but the process used to produce them. Our expert knowledge of the market place, as well as what our clients and their customers want means we provide the perfect blend of style, quality and durability.
Operating to lean manufacturing principles and committed to continuous improvement, we are working hard to minimise the impact of external change on the cost of sampling to your business. Talk to us about ways that we can work together to streamline our partnership from beginning to end, reducing costs, eliminating waste and minimising timelines.
Pike Textiles was founded in 1891 by James Pike, great grandfather of current Chief Executive Officer Andrew Pike, and his brother William. Today the company employs more than 120 people and has been based in Wisbech since 1973.
Andrew Pike, Chief Executive Officer
Andrew is the fourth generation of the Pike Family to lead Pike Textiles. He has travelled the world visiting pattern book manufacturers and sharing knowledge and experience with them. He truly has the pattern book industry in his blood and is a fine Ambassador for both the industry and for Pike Textiles.
A keen sailor and family man, Andrew spends his spare time enjoying good food in the company of friends and family.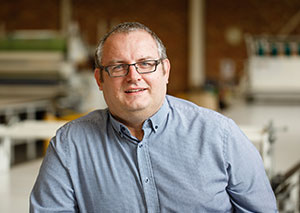 Simon Edwards, Financial Director
Simon is a local man having trained with a regional firm of Accountants in Wisbech before moving to a Peterborough based firm. It was there that he first experienced the world of Pattern Books with Pike Textiles being one of their audit clients!
After a brief spell as Financial Controller of a small medical wholesaler he joined Pike Textiles in 2003 as Company Accountant and in July 2004 Simon was appointed to the Board. Simon is married to Cathy and they have 2 young sons, Ben and Ollie.