The big idea
A bike ride from Lands End to John O Groats certainly seemed a good idea, particularly discussed over a pint as most 'good ideas' are always hatched. It was the next step anyway really – having cycled milestone distances of 25, 50, 80 and then 100 – it was just logical. Depending upon what route was decided it would be between 840 and 1000 miles, over a fortnight, definitely do-able. The problem was that whilst training in the Fenland, snooker table flat terrain (although when it blows a strong wind there is no-where to hide) it became apparent early on that the wind was no substitute for hills, particularly steep hills on small 'B' roads that we had chosen, our target of 80 – 90 miles per day, gauged on our training in the flat lands, was to be a severe challenge.
Fundraising from Pike Textiles
I decided that I would raise money for a worthwhile charitable cause, a family friends child was suffering from neuroblastoma, a cancer that targets young children and can be very difficult to diagnose until it becomes untreatable. The day we left for Penzance I had secured sponsorship through friends, colleagues and particularly Pike Textile suppliers, to the tune of £2,500, a worthy amount.
The First Night
We did the ride with no back-up vehicle, just three blokes carrying all equipment on the bikes, with a pre-planned b&b route before us. We noted that the first days weather forecast was not looking that good, rain was pushing in from the west and within a few hours it was with us, a feature that would be common place for the next consecutive 10 days, unbelievable that we had chosen September because we thought it would be the driest month!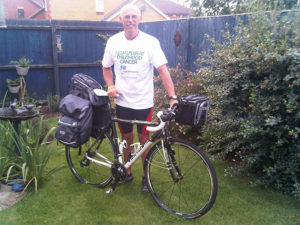 We had noticed, via blogs and social media etc, that a very high number of budding Lejoggers, were likely to quit in the first few days. Odd we thought, because if adequate training had been done surely you would be at your fittest early on the ride, more likely to quit nearer then end when fatigue would surely catch up and become a factor.
I mulled over this thought as I relaxed in our digs on the first night in Wadebridge. The day was incredibly tough, the rain, wind and terrain was almost too much. We had got lost, found our way, and then got lost again. The gradient in some places, with 14lb of luggage in panniers, was almost un-cycle-able. We had estimated to arrive at our first b&b about 5pm, have a shower, a meal at a nearby pub, and then relax for the evening. In reality we were running so late we had fish and chips at 6.30pm still with 15 miles left to do, had no effective lights and dusk was falling quickly because of the bad weather resulting in us squelching our announcement at 8pm. We didn't know it but this would be repeated another 10 times as we swam our way northwards toward John O'Groats.
Half way through
At Garstang, day 5, there was only two of us left, my friend Jim had enough, a niggly cough that appeared a couple of days earlier, finally took hold and he couldn't continue. It was a very odd feeling, after training for 12 months previous, there were always three of us battling to keep each other going, and now there was just two. We agreed at the outset that if someone quit it would be down to them to sort out their return home, even though, it was difficult to continue without him.
That very same day, we had noticed a severe weather front coming in from the west, the remnants of a hurricane from the States which meant that our planned route up the west coast of Scotland was looking unlikely – a call to my wife resulted in a change of route for which we hadn't planned, and did it on the hoof so to speak. This detour would involve a route to Galasheils, Dunblane, Braemar and then to Inverness (Fortrose in the Black Isle) which would put us back on the original route.
I hadn't realised at the time of re-jigging the route that we would be going over the Cairngorms from Balmoral to Grantown on Spey, stopping off at the Lecht ski resort on the way. It was the hardest day we had – 95mls and over the toughest terrain and of course, in the wind and rain – 8.25hrs cycling time that day.
The final day!
We eventually completed the ride on the 15th September covering 1045 mls. Fastest speed 43.5mph in the wet obviously – average time in the saddle 6.75 hrs.
It was something that I'm proud to have completed, something that I will never do again, and something, had I know how difficult it would be, probably wouldn't have tackled in the first place.
The overriding factor, the one thing that helped, was that I was cycling not for me, but for someone that needed help and for someone that had endured far more suffering than I had experienced over 11 days in September.