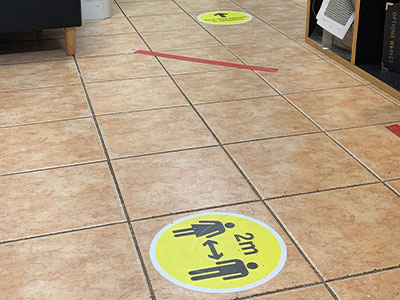 To maintain social distancing in such a dynamic and responsive business, built around flexible teamworking, has been quite a challenge!
Following a significant programme of works, a comprehensive Covid-19 risk assessment was shared with all Pike Textiles colleagues. The risk assessment is available on the website here.
The Government's poster declaring Pike Textiles a Covid-19 Secure Workplace is on display to any authorised visitors as well as colleagues. We are proud to have achieved this status so quickly.
The process to achieve this milestone followed consultation with our elected representatives on both the ICE Forum (Information and Communication with Employees) and the Health, Safety & Welfare Committee. Many changes were implemented to how we work. These include a new one-way system throughout our 5000 sq m sampling solution manufacturing site, a novel 'traffic light' system outside the toilets, routine sanitisation of workstations and desks, installing more access doors for colleagues and foot-operated buzzers above and below any two-way stairs.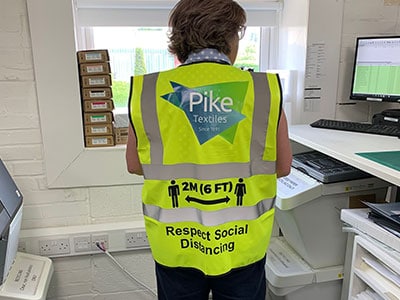 Break times are being reorganised and two new break areas created, so colleagues remain distanced while taking their break. Each toilet cubicle is equipped with its own handbasin, and new doorways create a one-way system past the cubicles. All colleagues have hygiene keys to reduce transmission risks at common touch points. And, of course, hand sanitisers are everywhere and each colleague has their own disinfectant spray bottle.
While these changes were being introduced, our workload recovered and colleagues returned from furlough. Weekly updates kept furloughed colleagues up-to-speed and a video showed them the changes in action. The interiors and soft furnishing market has been one of the quickest to get back to business and Pike Textiles are again fully equipped to support the sampling requirements.
The Pike team remains together and in good shape, ready to face the next challenge!