About Red Bridge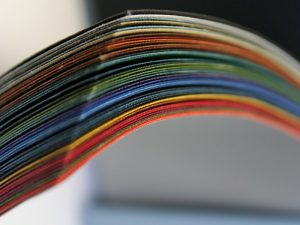 The Red Bridge mill, founded in 1927, near Manchester, UK specialises in the pattern book manufacture and supply of premium textile and paper cover materials. Originally a cloth specialist the business evolved with the changing market needs and today, as part of Neenah Paper Inc, we offer a wide range of high performance cover materials and related accessories including:
Coated cotton cloths: extensive range of off the shelf products plus products tailored to the customer's specific need, including Arbelave Library Buckram
Tissue lined rayon: an exciting set of bright and vibrant visuals, catering to a modern palate
Binding ancillaries: including crepe, hollows, mulls and calicoes for all your bookbinding requirements
Today Red Bridge routinely exports to 80 countries.
Pattern Book Manufacture Capabilities
As well as our extensive range of standard products and finishes we pride ourselves on our ability to design and deliver a bespoke pattern book manufacture solution perfectly matched to the aspirations of our customers.
Special colours/colour matching from only 1000m: whether you provide a pantone reference or a physical sample, our many years of experience enable us to meet your exact colour requirements
UV and visible printing: whether as a decorative or security feature we have both standard patterns and the capability to customise to your specific brand requirements
Our Services
Large range of stock colours
Low Minimum Order Quantities (50m)
Next day dispatch (conditions apply)
Small orders / part rolls
Slitting / sheeting / part roll service
Our products
As well as our highly popular, market leading Arbelave® Library Buckram, we offer a complete range of decorated coated cloths suitable for a wide range of applications as part of our pattern book manufacture services.
Arbetex E & A, a leather effect finish with a selection of 3 embosses for a realistic look and feel
Balmoral®, a finely woven, smooth finish coated cotton cloth
Buckingham, a lightweight dyed through buckram cloth
Chelsea, a traditional "white back" cotton cloth
Sparkle, as its name suggests, beautiful sparkling dyed through cloth
Conservation Buckram Archive / Legal, heavy coated cloth for specialist applications with either dyed through or white back
New products
Our most recent visuals were developed to provide the market with products which were superior in both appearance and performance.
Baroque and Aura are our latest metallic finish visuals, each with a set of distinctive shades that have been developed specifically to offer more vibrancy, more visual appeal
Chamois is probably the best matt product on the market. The shades are deep and true, the finish wipeable, and the look ideally suited to today's requirements
Certifications
FSC-C121765 (FSC Mix, FSC recycled)
ISO 9001: quality management system
ISO18001: Health & Safety management system
ISO14001: Environmental Management system
Visit our website for more information here: www.neenah.com/technical